ETA: I added a bit of text and one more pic (I had to ask for permission, first)


So I just lived another unforgettable day … and if you heard some very loud squees yesterday it was probably me!

But let's start from the beginning.

The second edition of Rome Film Festival is running in these days and you can't imagine my shock and pleasure when I realized that "August Rush" (the upcoming movie with Jonathan Rhys Meyers) was selected for the Premiere section of the festival.

I frantically started reading each magazine, website and blog post that I could find to see if Jonathan would be attending and, to be sure, I immediately bought a ticket for that premiere.

At the beginning of the week, according to the official sources, the presence of Jonathan was still uncertain, since half of them said he was going to come, the other didn't mention him at all.

I also asked to my sister at the magazine (I even tried to get a pass, but the organizers of the festival were tremendously selective) and they said that there was a good chance that he could come.

I've been overexcited for the remaining days of the week (I didn't mention anything here on LJ, but I kept all that was crossable crossed) and when I woke up yesterday and read the local newspaper, I knew he was in Rome and even the Hotel where he was staying. First giant squee!



Then my mind went blank. I dressed like in a frenzy and immediately get out to reach the hotel and wait a bit outside, just in case. The screening was due for 5 p.m., but at 2 p.m. I was already freezing in front of the hotel.

Yes, freezing, because the weather in Rome has been warm and pleasant, almost like Spring, until a couple of days ago, then suddenly icy cold winds started blowing, the temperature dropped and it was Winter in just a few hours … The ideal conditions to get a serious chill, especially considering that I had to wait hours and hours in the open.

I stayed there for an hour or so, then I thought it was better to reach the Auditorium where the festival was held (very near to the hotel, luckily) and try to get a good spot in front of the red carpet to wait for the stars' arrival (which was due for 4.30 or so)

So more chilling for a couple of hours, but nothing could remove me from that spot. When the hour was approaching, my legs started trembling, for the excitement I suppose, but I kept repeating myself that it was just the cold …

Then a car parked and Jonathan was welcomed with a loud cheering and lots of applauses. Oh dear, I couldn't believe that it was really happening, I've wanted to see him for months and here he was!

I was ready with my camera, but he stopped several times for various interviews and I couldn't see him so well from where I was.


A few glimpses of what I could actually see: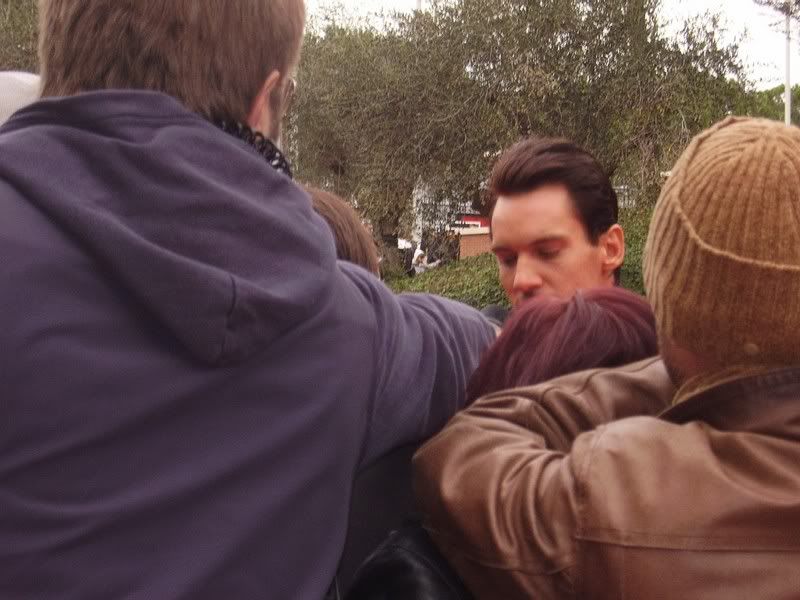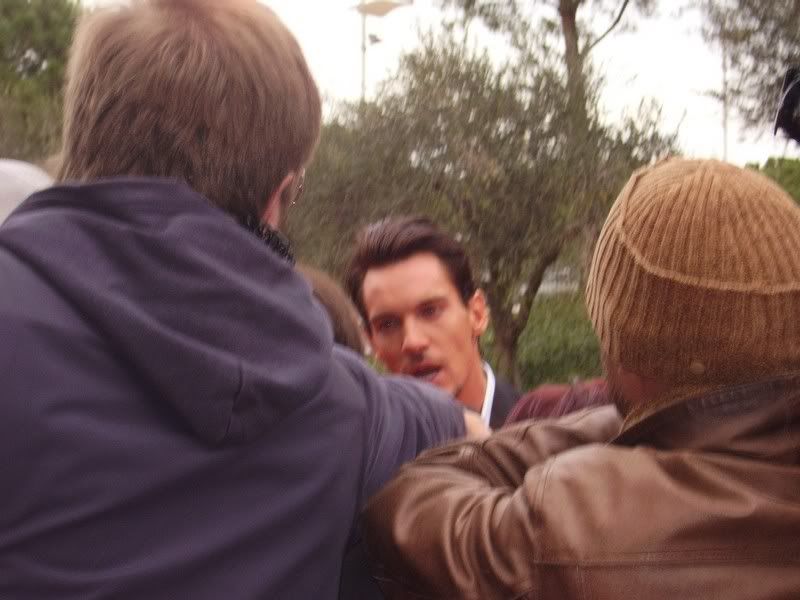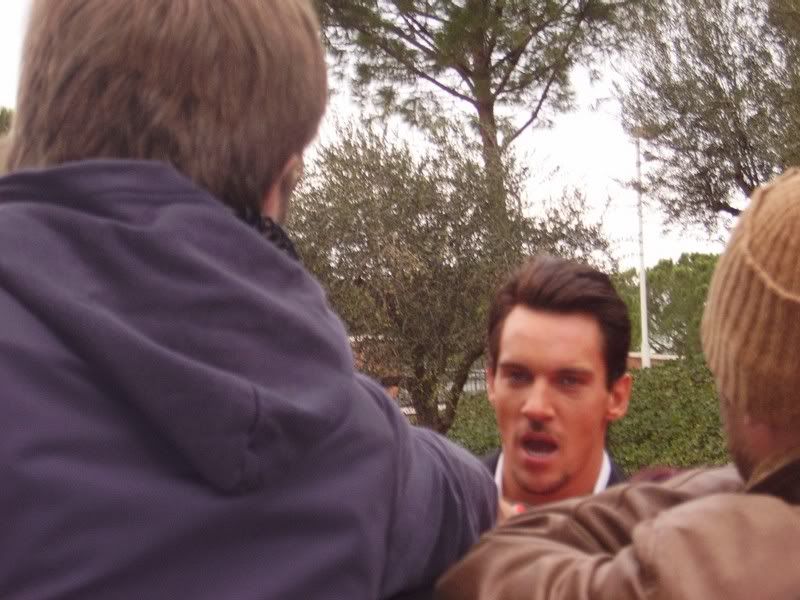 Instead, Freddie Highmore (the sweet kid you may remember from "Finding Neverland" and "Charlie and the Chocolate Factory", both with Johnny Depp) came pretty near, so I could take a couple of pics. I absolutely adore this guy!



(you can actually see Jonathan signing in the background)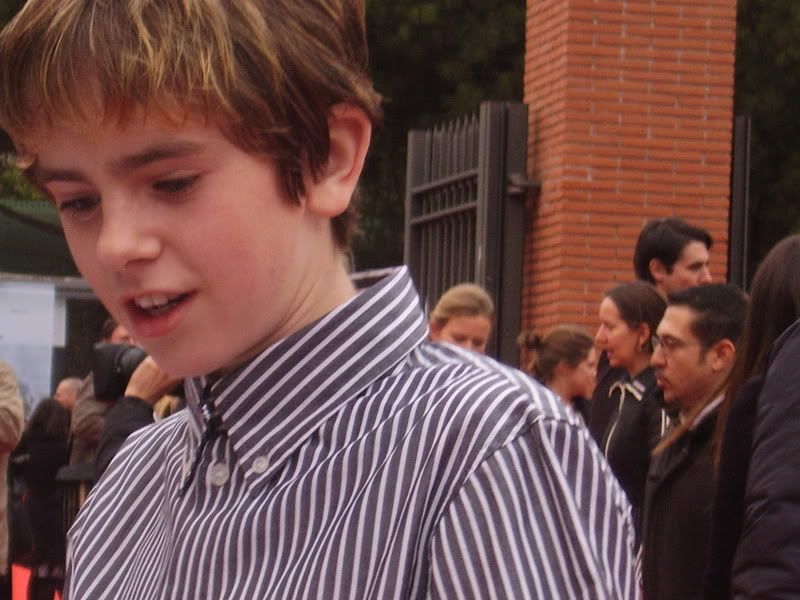 But just when Jonathan was approaching, to my great disappointment he was carried away (probably because it was a bit late) and marched in front of me in a matter of a second, not enough to take a single pic.

So I started running after him, but of course I didn't have a good spot anymore and there were rows and rows of people in front of me.

Unexpected aid came from a gentle guy from the staff (I must be clearly desperate by then), who stood on a chair and had a better view of Jonathan. He offered to take some pics for me. Oh dear, I would have hugged him, I didn't even ask!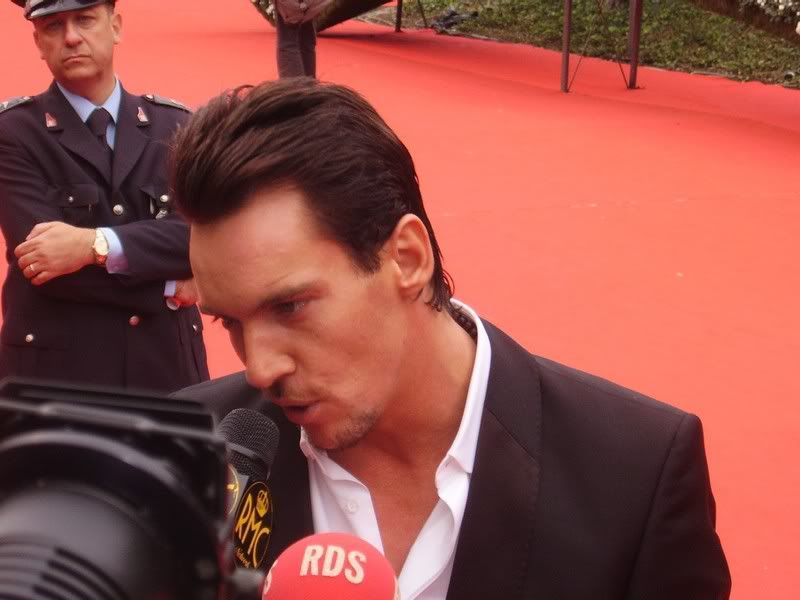 When it was clear that I could watch Jonathan only from very far, I rushed inside the Auditorium to wait his arrival inside and warm myself a bit (in every sense, eh, eh!)

After a few minutes, the cast was announced and went on stage to present the movie. The actors and the director were asked to say something for the public. Freddie Highmore thanked in Italian (he was so sweet) and Jonathan made us all laugh when he repeated in English exactly what Freddie has said, with a childish voice.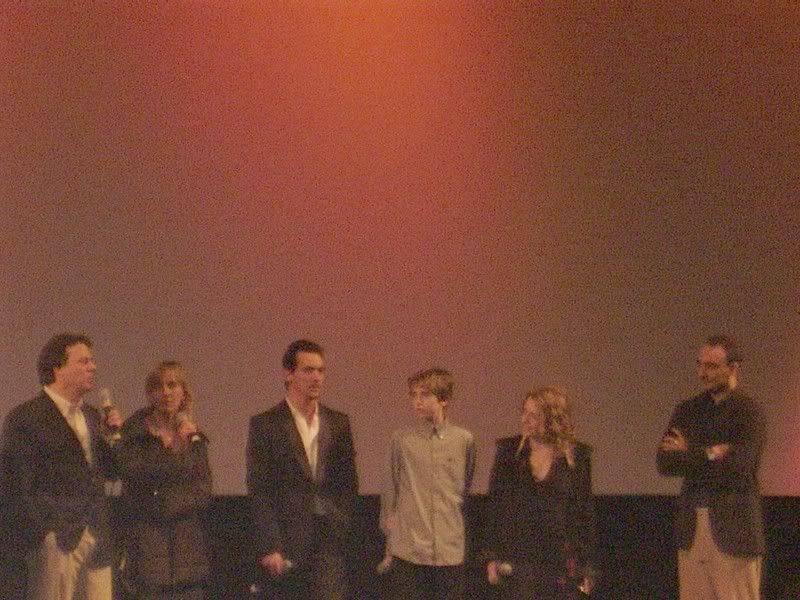 After a loud applause, the cast was taken somewhere else (I couldn't spot them during the screening) and the movie began.

It's such a beautiful movie, a sort of fairy tale about love and music, a very sweet and touching story and at the end a lot of people were moved to tears.

Jonathan was great as usual in the role of an Irish guitarist. Well, it's not the first time that he actually played guitar and sang in a movie (Velvet Goldmine and Elvis) and I must say that, growing up, he improved his singing and he has a very pleasant voice.

Here's the trailer of August Rush. It's Jonathan singing in the first song you hear:



After the movie, I checked to see if I could spot Jonathan again, but he was nowhere to be seen. So I decided to get back to the hotel, where I joined three lovely girls (who run an Italian web site about Jonathan). Since it was deadly cold, I decided to wait there ten minutes or so, hoping to catch Jonathan getting back to the hotel.

Eventually ten minutes turned into more than an hour and just when I was ready to get back home, a black car parked in front of the entrance. I immediately spotted Jonathan in the car. I couldn't believe my luck.

He got out of the car and, luckily, was more than eager to stop some minutes with us, chatting, posing for pics and signing.

I finally had the chance to see him REALLY CLOSE, and OMG he's so beautiful and hot!! Pictures don't pay him justice, he's much, much better in person. He's magnetic and sensual and, above all, very sweet and kind.

And he really has a grip, I could actually feel his strength when he put his arm around me for the pic (needless to say that my arm immediately went around his waist and I could feel warm, firm muscles … )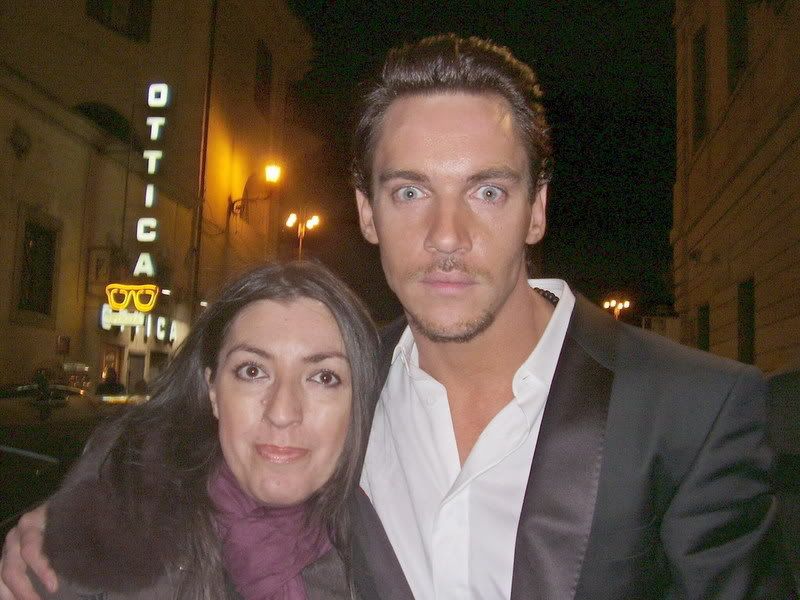 I know, I know, I've warned you my hormones had gone wild at that moment, I look like I'm about to burst!! And I giggled when I saw his expression because he often has those psycho eyes while posing for pics (you can see it even in the official photo sessions!).

Then I asked him for an autograph, and he signed the booklet of my "Gormenghast" DVD.




Then I HAD to ask if I could kiss him and he obliged. He let me kiss him (on the cheeks, of course) and gave me two kisses in return, the kind of kisses that actually make a loud "MWAH". No wonder, with lips like his …. Well, you know I'm a bit obsessed by his lips!

And here's Jonathan signing for another girl: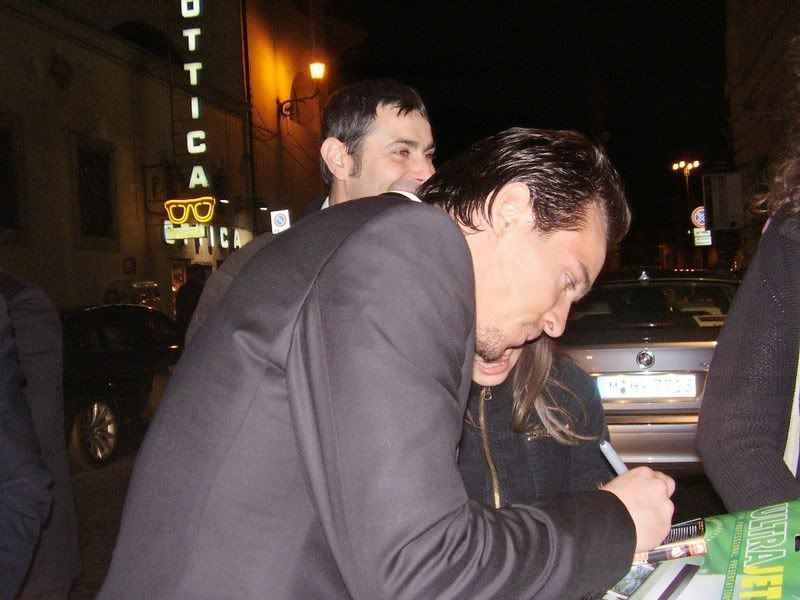 And here's a pic I took while Jonathan was posing with other fans (I've posted it only now, because I wanted to ask one of the girls the permission to post)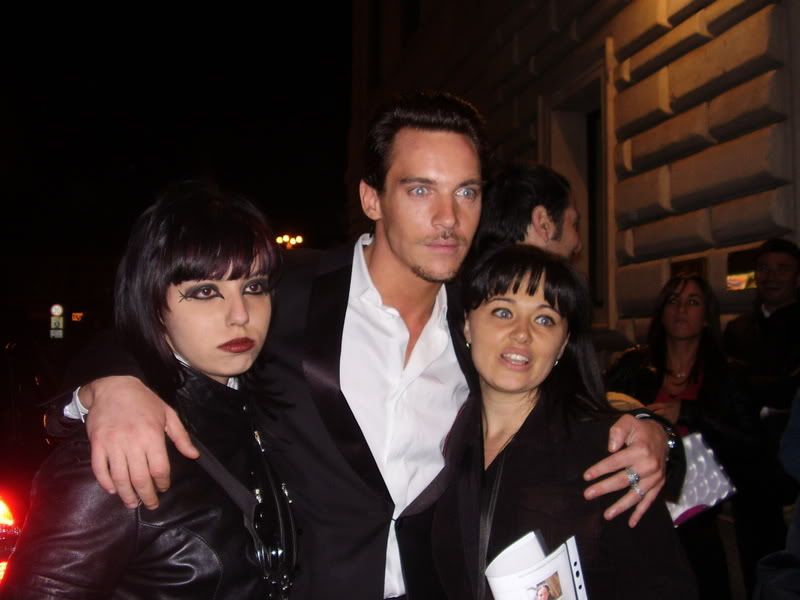 Then he had to wave goodbye, and it always seems too soon when you don't know when or if you'll ever meet a person again. We all thanked him and I loved that he tried to speak a bit of Italian. He said "Molto piacere, grazie mille", which is "my pleasure, thank you so much" and he was soo sweet!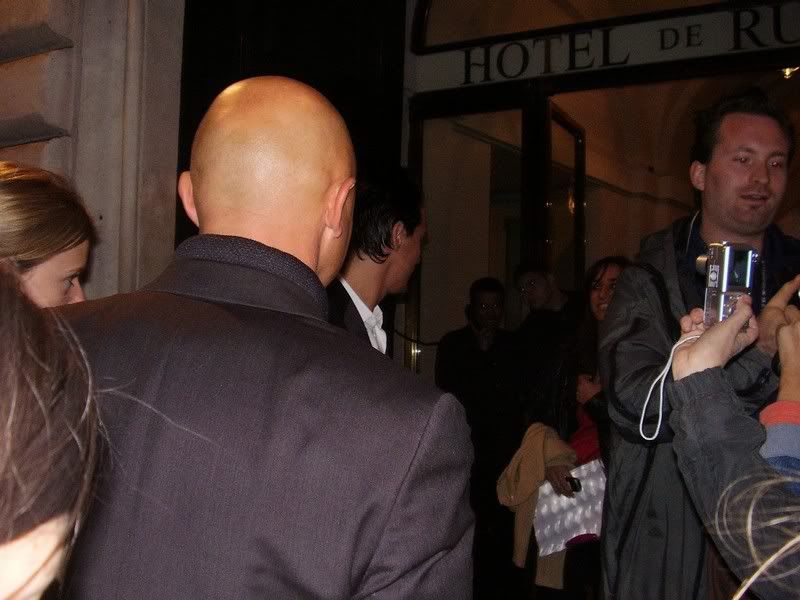 Well I was overexcited but absolutely happy and satisfied. It went far beyond my expectations. Of course, I was in a semi-confused state afterwards and I caught a taxi to get back home (because of the cold but, mostly, because I think I couldn't even remember my direction home).

Needless to say that I haven't slept at all tonight and adrenaline is still running …

Sorry if I bothered you, I know many of you are not interested in this guy, but I had to share this GIANT SQUEE!

*massive Sunday hugs*